Your Guide to Enjoying a Healthy Vegetarian Diet and Lifestyle
Welcome to your complete resource for adopting and maintaining a healthy vegetarian diet and lifestyle.
Do you want to become vegetarian but don't quite know where to start? Here's a quick bit of practical advice;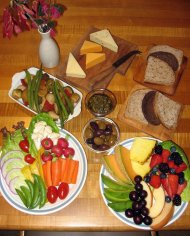 Chances are, if you're considering going meatless, it's quite likely that eating meat has triggered a "gut reaction" in you. You have this nagging, unspoken "gut feeling" that something is not quite right about eating meat.
There may be other considerations that constribute to this uneasiness in you. Perhaps you're bothered by all of the carnage and violence involved with the preparation of animal products for human consumption. Maybe you suspect that eating meat is not healthy for humans. Or you've heard that following a meatless diet makes it easier to lose weight.
Whatever the reasons, none of them, by themselves, will be potent enough to fuel a lifestyle change like giving up meat, if that gut feeling is not present.
That doubt that you harbor, the uneasiness you feel about eating flesh foods is the root cause that expresses itself in the form of "your reasons" to give up eating meat.
And you didn't read about it in a book. It's not second-hand knowledge you got from somewhere else. This gut reaction is first-hand knowledge that naturally wells up from within, and you can trust it for that reason. It's yours!
It's important to recognize and become familiar with this reaction because it's your very well-being that's involved here. Clinical studies and scientific evidence about the benefits of going meatless and the health risks associated with eating meat are, in comparison, nothing more than extra bells and whistles. They will add to and fortify your resolve to make a lifestyle change. But don't downplay or neglect that inner gut feeling. It's real and cannot be faked.
We'll be delving into this in more depth in the pages that follow. But whether you're a rookie to meatless living or a veteran, we want to help you fine tune and personalize a healthy vegetarian diet and lifestyle that works for you. That's our goal and we want you to have fun in the process.
Draw on our 35 plus years of experimenting with all kinds of meatless diets. Feel free to browse through these pages. You'll discover hard facts, useful tips, helpful advice and provoking questions for your consideration.
We'll cover the basics like the different types of vegetarian diets, the benefits of going meatless, what a healthy diet consists of and our favorite recipes.
But we'll also delve into some really "meaty" topics like;
* How to become a vegetarian instantly.
* What to expect when adopting a meatless lifestyle.
* How to survive when dining out.
We'll also touch on related concerns such as the meatless kitchen, organic foods, health foods and natural foods...health alerts, brown bagging, vegetarian nutrition, airplane fare, meal planning, backyard gardening and lots more. We intend to cover all the bases regarding how to enjoy and maintain a healthy vegetarian diet and lifestyle.
Plus We Invite Your Participation In The Process!
We have provided a separate page ("Your Questions") for your specific questions and comments on the content of this Meatless Living website. Contributions that are likely to be of interest to other readers of Meatless Living (when approved) will appear as a new page to the website.
Additionally, we have also placed comment forms at the bottom of many of the specific topic pages of this website.
This is where we would like you to share your experiences and light bulbs going off.
We invite you to contribute to the website by sharing your juicy stories, your insights, your trials and your successes...not only with us, but with all of the readers of Meatless Living.
The forms are quick and easy to use and your contribution (when approved) will appear as a new page on the website for all to see.
So sharpen up your chef's knife and join us in this adventure. We're still learning and experimenting to fine tune our own odyssey in the world of meatless living. We welcome you to the challenge and hope to get your feedback as we both progress.
Now let's have some fun and...bon appetit!


To become vegetarian, it is important to realize that it is not odd or unnatural to choose a meatless diet.
Adopting a vegetarian lifestyle will require a few changes. Here's what you can do to overcome life's challenges and thrive.
Good vegetarian nutrition results from a diet rich in vital nutrients.
Experience vegetarian weight loss and have fun!
Backyard Gardening
Our Vegetarian Recipes
Ask your questions about Meatless Living here.
Site Directory...Find what you're looking for.
About Us, David & Skye
Would you like to share your knowledge about vegetarian? Great, find out how you can submit your story or tip here.